What is Devizes Opendoors?
It is a charity that has been set up to help people in the Devizes Community Area to find solutions to homelessness; to offer support to local people when they are homeless or at risk of becoming homeless and to benefit local individuals in need, including the marginalised and vulnerable.
Opendoors exists 100% for the benefit of others, in particular those who are homeless or at risk of becoming so. For the last few years it has provided three cooked meals a week at St. John's Parish Rooms, Long Street and there are about 15 – 20 people there at most sessions. Along with the good food and company there is the chance of a shower and a few other things (see Opening Times).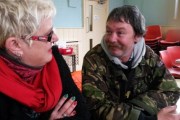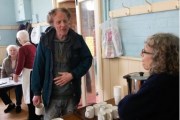 The guests are a mixture of rough sleepers, those sleeping in sheds, vans and old boats, sofa surfers and those with their own homes but with issues that can make their tenancies vulnerable.
The team has two paid staff, a coordinator and a deputy coordinator, and over 50 volunteers on a rota with 7 - 9 on per session. Together they prepare the food and the hall, welcome the guests and chat, serve meals and discuss issues in one-to-one conversations. Concerns that get followed up include health (mental and physical) issues, alcohol and drug dependency, criminal activity, financial matters and of course, housing issues.
Like to find out more about? Click to download our Autumn 2019 Volunteer Newsletter.

A series of articles about those who access Opendoors services, and those who provide them.
---
Our Annual Sponsored Sleepout
took place on Sat 11 January to 8am Sun 12 January 2020
St. Mary's Church - Devizes
Armed with sleeping bags, mats and thermal underwear, 16 participants arrived at St Mary's, Devizes oldest church, for the annual Sleep Out event with an ambitious plan to double the amount raised last year of £1,390. Having totted up the numbers, it looks like we will smash through that goal, with pledges of £4,000.
Through their JustGiving page, two local 9 year old girls and a 14 year old raised £1050. Local Accountancy firm David Owen, who have made Opendoors their charity for 2020, raised £1800 on the night through two participants.
No Night Shelter in Devizes this Winter
Despite recent cold nights Devizes Opendoors trustees have decided not to open a trial night shelter during February and March. The plan had been to open at week-ends and during times when the temperature was forecast to be at or below freezing for three or more nights. However, trustees have just heard their application for a grant has not been successful. It is also now clear that some of those who have been sleeping rough have recently been helped to find accommodation in other towns by Wiltshire Council.
The number of rough sleepers the Shelter might have catered for was only ever going to be as high as six. Now that several of those have no need of such provision, that leaves just one or two to cater for. The trustees believe that more cost-effective ways of sheltering such small numbers could be found, including arrangements like a bed and breakfast scheme. They also agreed that more time and effort now needs to be invested in a Befriending scheme so that sofa surfers and other homeless people are offered more ongoing support, as they seek to better their circumstances. If anyone reading this would like to contribute to the discussion of either scheme, please get in touch with John by phone (07828 041152) or email (This email address is being protected from spambots. You need JavaScript enabled to view it.).

---
Once more we have been delighted by the support from local people and organisations in the run up to Christmas and a Big Thank You Goes To...
Coate Fireworks £500
Hot Gossip (Wansdyke school staff) £100
Wessex Model & Toy Auction Evening. (Total to be announced on the 4th Feb.)
Local Labour Party Cellar Bar £214
Wadworth Winter Market: Sale of hot drinks £163.18 plus £506.60
Good Afternoon Choir Concert £833.87
Sing Alive Choir £429.84
Chamber Choir £51.20
Bishops Cannings Tuesday Group £95.00
Worton Nitt & Knatter Group £137. 10
Worton & Marston Carol Service, £18120
Marston Chapel Carol Service £125.10
The (Lawrence) Arts Society £100.00
Compton Bassett Christmas Fayre £200
Devizes Rotary £270
Women's Institute £12.50
Metabolics £120
We also received the following monetary donations from supporters amounted to the following: 11 donors, £1,110 - 1 donor, £2,000 - Just Giving donors 675.09
We were also delighted by the generous gifts of wrapped presents, food from members of the public, local organisations and shops, including CW Butchers who supplied 60 pigs in blankets, Christmas cake and unwanted gift vouchers that altogether meant that our guests had a very enjoyable lunch on the 23rd December. Thanks to you all.
---
Volunteer Opportunity
Be a Devizes Opendoors Befriender
Give a homeless person a hand up - not a handout
This autumn we are looking for people who can empathise and encourage.
We provide full training and you will join a supportive team of volunteer Befrienders.
Please click here to find out more, or contact John Saunders:
This email address is being protected from spambots. You need JavaScript enabled to view it.
07828 041152
---
Contact Details
If you are homeless, know someone who is, or concerned about someone at risk of becoming homeless we might be able to help. Please call: 07493 825258
To speak to a member of the team during our regular opening times please call: 07722 096046
If you are interested in volunteeering with us please email: This email address is being protected from spambots. You need JavaScript enabled to view it.. You might also like to take a look at our Volunteer section, where you can find more information or download our Autumn 2019 Volunteer Newsletter.

Any other enquiries? Please email: This email address is being protected from spambots. You need JavaScript enabled to view it. or go to our Contact Page.
---