What is Devizes Opendoors?
It is a charity that has been set up to help people in the Devizes Community Area to find solutions to homelessness; to offer support to local people when they are homeless or at risk of becoming homeless and to benefit local individuals in need, including the marginalised and vulnerable.
Opendoors exists 100% for the benefit of others, in particular those who are homeless or at risk of becoming so.
For the last few years it has provided three cooked meals a week at St. John's Parish Rooms, Long Street and there are about 15 – 20 people there at most sessions. Along with the good food and company there is the chance of a shower and a few other things (see Opening Times)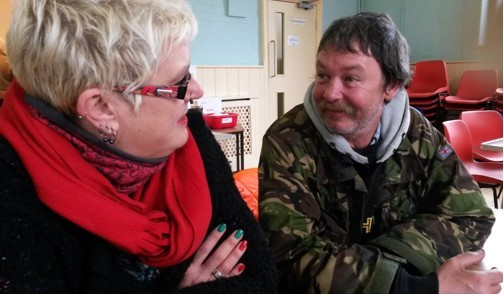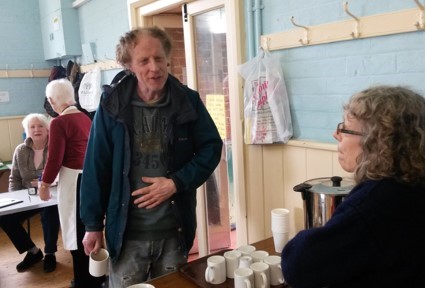 The guests are a mixture of rough sleepers, those sleeping in sheds, vans and old boats, sofa surfers and those with their own homes but with issues that can make their tenancies vulnerable.
The team has one paid part-time coordinator and about 50 volunteers. Together they prepare the food and the hall, welcome the guests and chat, serve meals and discuss issues in one-to-one conversations. Concerns that get followed up include health (mental and physical) issues, alcohol and drug dependency, criminal activity, financial matters and of course housing issues.
ADVANCED NOTICE
Annual General Meeting
7.30pm Wed 25th April Cheese Hall, Devizes Town Hall.
APRIL 2018
Planning has got underway for a befriending scheme we are calling Trinks. For an idea of how this might work please click on the word Trinks (Three-way Links). A task group is meeting every three weeks on a Tuesday morning. The emphasis at the moment is very much on the sort of training we should be offering not only those considering becoming a Befriender but also for those volunteers who have recently joined us. A member of Working Links (in the probation service) and someone from Turning Point (substance misuse advisory service) are proving to be a great help. Please get in touch via the Contact Us tab on the Menu Bar if you would like to get involved.
A task group has started putting a plan together to provide a Winter Night Shelter for rough sleepers next winter. It is meeting every two weeks on a Tuesday and hopes to have a Handbook ready in teh next month or two. Several more grant applications have gone in during the last few weeks. Funds are needed to pay for alternations to the upstairs area at St. Andrew's Church and to pay for a co-ordinator. We hope to appoint him or her in the early autumn to help organise not only teh Shelter but also the current ongoing Opendoors activities . Please get in touch via the Contact Us tab on the Menu Bar if you would like to get involved.
Our application to become a partner of Green Pastures has been accepted. They are a national Christian organisation providing homes for those most in need. We are now putting a team of people in place to take ongoing responsibility for the Supported Housing Project (property yet to be acquired) and for the welfare of the occupants. If you have money to invest, Green Pastures give a good rate of return. The more that local people invest, the bigger the benefit to this Opendoors project.
SPONSORED SLEEP OUT A BIG SUCCESS
A group of adults and children recently got an idea of what it must be like to be homeless at this time of year. They took part in the Annual Sponsored Sleep Out at St. Mary's Church, Devizes over the week-end 2nd/3rd December. There were seventeen in the group, their ages ranged from 7 to 70 and they came prepared for a cold night. Before settling down, many spent time crafting Christmas cards and a lot took up the challenge of creating structures from newspaper (that could support a raw egg at the great height!)
At about 11 o'clock, after soup or hot chocolate, people started bedding down. Most chose to sleep outside in the church yard. Others took the more comfortable option and settled down in the church itself. It turned out to be an undisturbed night for many, but some did find it difficult to sleep because of the noise of traffic and the uncertainty of who might be about.
At about 7 o'clock people woke to the smell of cooked bacon and the realisation that a reporter from BBC Radio Wiltshire had arrived to ask them about the experience. Several said that it had had quite a sobering effect on them and they had now got a lot more sympathy with those who are sleeping rough night after night, without a bed to go home to.
Sally Rhodes, who helped organise the Sleep Out said, "What a great privilege to be involved with Opendoors, seeing first-hand the support and enthusiasm from volunteers. Our supporters and our sponsors are amazing and have made this year's sleep out a real a success".