What is Devizes Opendoors?
It is a charity that has been set up to help people in the Devizes Community Area to find solutions to homelessness; to offer support to local people when they are homeless or at risk of becoming homeless and to benefit local individuals in need, including the marginalised and vulnerable.
Opendoors exists 100% for the benefit of others, in particular those who are homeless or at risk of becoming so. For the last few years it has provided three cooked meals a week at St. John's Parish Rooms, Long Street and there are about 15 – 20 people there at most sessions. Along with the good food and company there is the chance of a shower and a few other things (see Opening Times).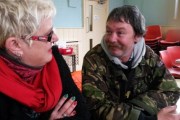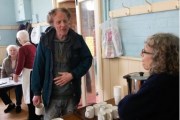 The guests are a mixture of rough sleepers, those sleeping in sheds, vans and old boats, sofa surfers and those with their own homes but with issues that can make their tenancies vulnerable.
The team has two paid staff, a coordinator and a deputy coordinator, and over 50 volunteers on a rota with 7 - 9 on per session. Together they prepare the food and the hall, welcome the guests and chat, serve meals and discuss issues in one-to-one conversations. Concerns that get followed up include health (mental and physical) issues, alcohol and drug dependency, criminal activity, financial matters and of course, housing issues.
Like to find out more about? Click to download our Autumn 2019 Volunteer Newsletter.

A series of articles about those who access Opendoors services, and those who provide them.
---
Thank You
A very big thank you to our volunteer Helen and her sister Liz Bailey who organised a coffee morning recently that raised over £300. A fabulous boost to our funds, we are very grateful indeed.
Date for Your Diary - Annual Sponsored Sleepout
8pm Sat 11 January to 8am Sun 12 January 2020
St. Mary's Church - Devizes
SIGN UP FOR THE SLEEP OUT!
For one night only - on Saturday 11 January 2020 - local homeless charity Opendoors will host a sleep out event at St Mary's Church Devizes where people can either sleep in the church or brave a night 'under the stars' (whatever the weather) to raise vital funds for the charity that helps people in the Devizes Community Area to find solutions to homelessness.
Described as inspiring and thought provoking by previous participants, experience a small taste of some of the difficulties that so many people homeless in the country have to deal with - freezing cold, venerability and the difficulty of carrying on your day with very little sleep - and raise money for a very worthwhile cause.
Opendoors depends entirely on donations - both in terms of money and food, volunteers' time, clothing, books for example and the sleep out is a key fund raising event in the calendar. In 2019 it raised £1,360 representing 5% of the Opendoors total funding for the year. We are aiming for 10% this year and with your help can make that happen.
Children under 18 must be accompanied by an adult - minimum age 8 years.
Hot drinks available.
Bring blankets, camping mattress, pillow.
Have gloves, thick socks, woollen hat.
Bring more warm clothing than you think you will need!
Some toilet facilities on site.
Click here to download our Registration Form and for further details including the programme for the night.
Click here to download our Sponsorship form.
---
Forthcoming Events in Support of Devizes Opendoors
---
Volunteer Opportunity
Be a Devizes Opendoors Befriender
Give a homeless person a hand up - not a handout
This autumn we are looking for people who can empathise and encourage.
We provide full training and you will join a supportive team of volunteer Befrienders.
Please click here to find out more, or contact John Saunders:
This email address is being protected from spambots. You need JavaScript enabled to view it.
07828 041152
---
Contact Details
If you are homeless, know someone who is, or concerned about someone at risk of becoming homeless we might be able to help. Please call: 07493 825258
To speak to a member of the team during our regular opening times please call: 07722 096046
If you are interested in volunteeering with us please email: This email address is being protected from spambots. You need JavaScript enabled to view it.. You might also like to take a look at our Volunteer section, where you can find more information or download our Summer 2019 Volunteer Newsletter.
Any other enquiries? Please email: This email address is being protected from spambots. You need JavaScript enabled to view it. or go to our Contact Page.