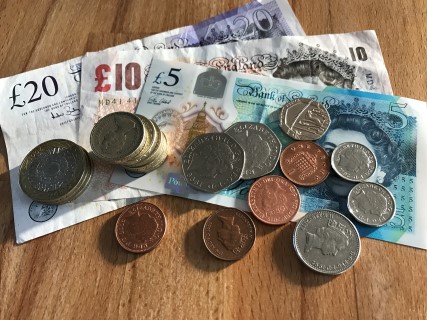 Fantastic News!
We are thrilled to announce that Wessex Model & Toy Collectors Club have chosen us as their charity of the year at their February meeting. Not only that, but member Steve Clement has carried out a four day sponsored walk of the Ridgeway from June 23-26. We hope to have more news of this soon.
We are also delighted that we are being supported by two choirs:
The Devizes Good Afternoon Choir have chosen us as their 2019 nominated charity of the year. They have a concert planned later this year on Saturday July 20th at St Mary's Church, Devizes at 7.30pm and then their Christmas open carol concert on December 13th which will take place at St Andrews Church, Devizes.
The Sing Alive Choir have also supported us with funds raised from their concert on the 11th May, as well as their tea and coffee donations.
Click here to read more about our other generous supporters.
Our annual turnover has been about £25,000 a year. This pays for the premises, the food and the part-time paid staff. We have been raising this amount by applying for grants, receiving donations from groups and individuals and holding fund raising events. For example, our recent Jumble Sale was very well attended and raised well over £400. Thanks to all who supported us.
Fund raising events are often a lot of fun and at the end of 2018 we were really grateful for the support from local people and organisations and a big thank you goes to:
Those who took part in the Sponsored Sleep Out on 1st December. One person got 103 sponsors and raised £687!
Cardwave, a Devizes-based company that donated £500 plus clothing.
Tranquil Moments, Poulshot who gave the proceeds of their Raffle.
Tammy Gilbert and Carly Coombes for their very generous donation following their New Year's Eve celebrations.
TITCO who nominated us as one of their charities for their Christmas concert.

Noah's Ark Nursery School for the Christmas hamper

Marston Chapel for their donation of £92

The Christmas poetry evening at the Vaults - entry by donation to us.
All of the individuals and local businesses that have donated food and clothing.
Several other individuals, groups and small businesses that raised money for Opendoors at Christmas.
All those who have nominated us for their fundraising next year.
Donations come from people as either one-off gifts or as monthly amounts and both are very much appreciated! Cheques should be to "Devizes Opendoors". Our address is St. John's Parish Office, Long Street, Devizes, SN10 1NN.
You can download our Standing Order Form with Gift Aid here.