We are now at the Southbroom Centre
This is at the far end of Victoria Road. Either:
a. Walk or drive down Victoria Road to the flats around the grass circle, go around to the right of the flats and we are on the right before you get to the bungelows.
Or;
b. Walk down London Road, past Morrisons, the Crammer and St. James' Church. Keep going out of town but before you cross the canal there is a bus stop on the left. Turn left there and walk along the path, leaving London Road behind you. You will see bungalows on your right and the back of flats straight ahead. When you get to Victoria Road go left around the corner and you'll see us on the left (not Southbroom House but the next entrance, Southbroom Centre).
There is:
a shower and toilets

a kitchen serving hot meals at our sessions

free surplus food and clothing

computer work spaces for guests

two small offices for staff and volunteers
Guests
We are open four sessions a week at Southbroom Centre, Victoria Road, Devizes, SN10 1HG.
Come and see us if
you don't have a home to go to,

you would appreciate a cooked meal or surplus supermarket food

you don't have somewhere to wash yourself or your clothes

you need help contacting the right people at County Hall about housing problems

you need help contacting drug & alcohol support services
Come between
11.00am - 1.00pm Mondays
9.30am - 11.30am Wednesdays
11.00am - 1.00pm Thursdays
5.00pm - 6.30pm Fridays
You can collect a hot drink, supermarket surplus food, a cooked meal, clothing, use the shower, use a computer or phone and/or get advice and support.
For enquiries, please call the Centre on: 01380 819909
Friday Befrienders
Starting in April, guests will be able to book one-to-one to sessions on Friday mornings at the Centre. Trained volunteers can help with difficult letters to write, forms to fill, tricky conversations on the phone or they can help you think through an awkward situation.
Please ask for and fill in a booking slip a day or two before and hand it in at the front office.
Volunteers
Each session runs like this:
Several people are on duty in the Hall and two or three in the kitchen. The cooked food is served and collected from the kitchen hatch. Surplus supermarket food is available and there is a drinks table. A shower, clothing, laundry tickets, post and food bank referral forms are also available. Conversations about benefits and housing take place on a one at a time basis in the Hall or Meeting Room. Turning Point staff are on hand on Mondays. The County Rough Sleepers team outreach workers come on Wednesdays. Any guest who needs a conversation can talk to the support worker.
There are no longer any covid restrictions in place, but we would ask anyone entering the hall to use the supplied alcohol hand-gel regularly and we would also ask that if you have, or think you may have, Covid-19, please do not come to the centre.
We will continue to keep the Rough Sleepers team at County Hall informed of those who want help with housing. County will continue to follow these up and hopefully provide suitable, temporary accommodation for those who are rough sleeping.
Please phone 01380 819909 or text 07862 238445 or email volunteersThis email address is being protected from spambots. You need JavaScript enabled to view it. if you think you can help.
What is Devizes Opendoors?
It is a charity that has been set up to help people in the Devizes Community Area to find solutions to homelessness; to offer support to local people when they are homeless or at risk of becoming homeless and to benefit local individuals in need, including the marginalised and vulnerable.
Opendoors exists 100% for the benefit of others, in particular those who are homeless or at risk of becoming so. For the last few years it has provided three cooked meals a week at St. John's Parish Rooms, but since October the sessions are now provided at Southbroom Centre, Victoria Road. There are about 15 – 20 people at most sessions. Along with good food and company, there is the chance of a shower, hot drinks and support from staff and volunteers (see Opening Times).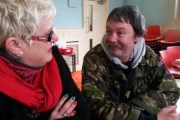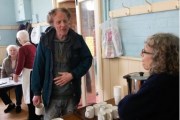 The guests are a mixture of rough sleepers, those sleeping in sheds, vans and old boats, sofa surfers and those with their own homes but with issues that can make their tenancies vulnerable.
The team has three paid staff, a coordinator, a deputy coordinator and a centre administrator. There are nearly 60 volunteers on a rota with 7 - 9 on per session. Together they prepare the food and the hall, welcome the guests and chat, serve meals and discuss issues in one-to-one conversations. Concerns that get followed up include health issues (mental and physical), alcohol and drug dependency, criminal activity and court related matters, financial concerns and, of course, housing issues. Staff and volunteers can also signpost to other agencies that may be able to help if we come across something we can't help with ourselves.
A series of articles about those who access Opendoors services, and those who provide them.
---
Be a Devizes Opendoors Befriender
Give a homeless person a hand up - not a handout
This autumn we are looking for people who can empathise and encourage.
We provide full training and you will join a supportive team of volunteer Befrienders.
Please click here to find out more, or contact John Saunders:
This email address is being protected from spambots. You need JavaScript enabled to view it.
07828 041152
---
Contact Details
If you are homeless, know someone who is, or concerned about someone at risk of becoming homeless we might be able to help. Please call: 07493 825258
To speak to a member of the team during our regular opening times please call: 07722 096046
If you are interested in volunteeering with us please email: This email address is being protected from spambots. You need JavaScript enabled to view it.. You might also like to take a look at our Volunteer section, where you can find more information or download our Autumn 2020 Volunteer Newsletter.

Any other enquiries? Please email: This email address is being protected from spambots. You need JavaScript enabled to view it. or go to our Contact Page.
---